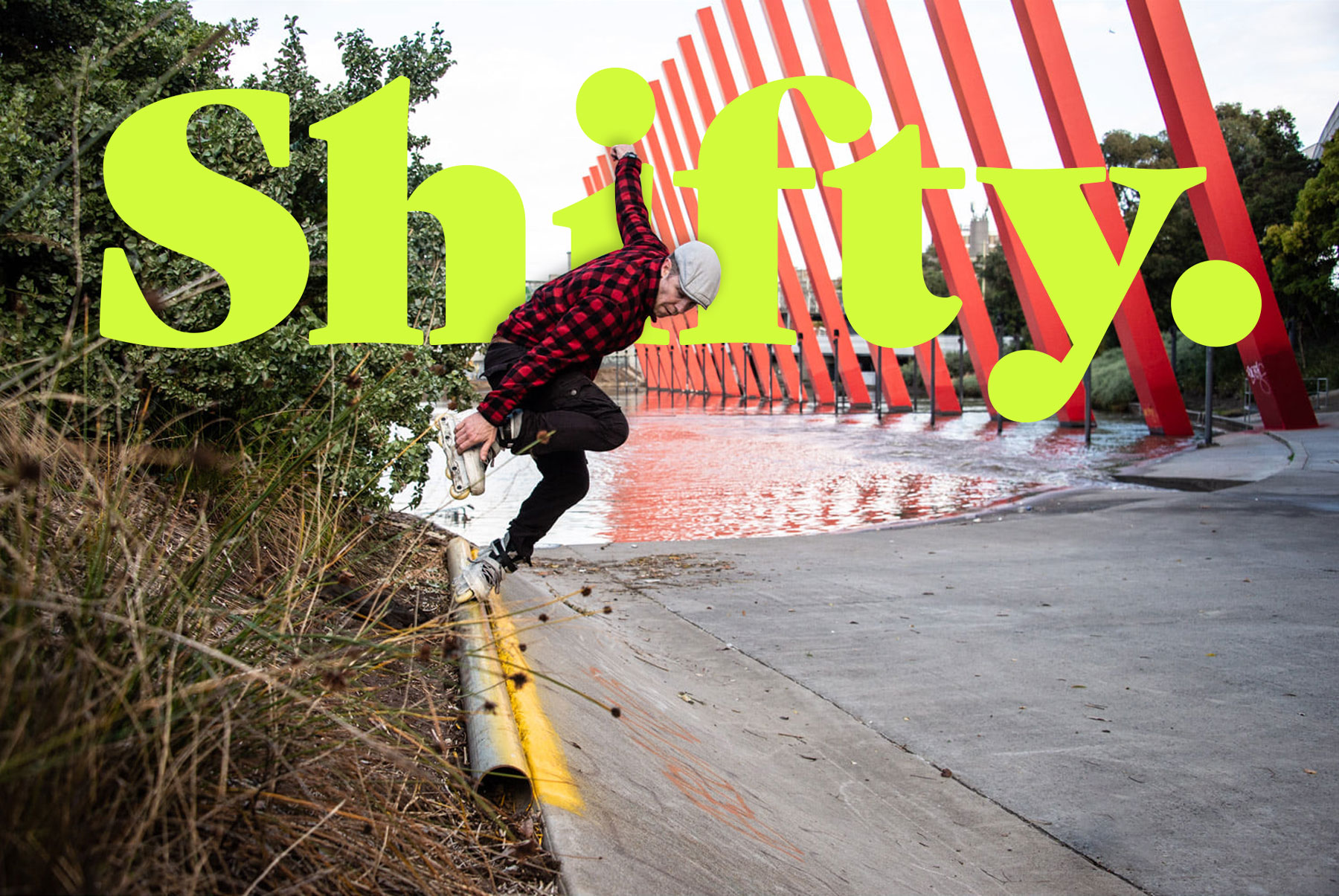 First things first, yes I know the photo isn't a photo of a Shifty, it's a Fish Brain (invented by the another Aussie legend, Tom Fry) at Flemington Drains in Melbourne Australia. This website isn't about shiftys, I just want to pay homage to the trick and the name 'shifty royale'.
So what the hell is a 'Shifty'? Below is a photo of me doing a shifty down a handrail in Japan. It can be done either frontside or backside and the front foot must be on the inner groove and the back foot on the outside groove, all the way to the boot while travelling in a forwards motion.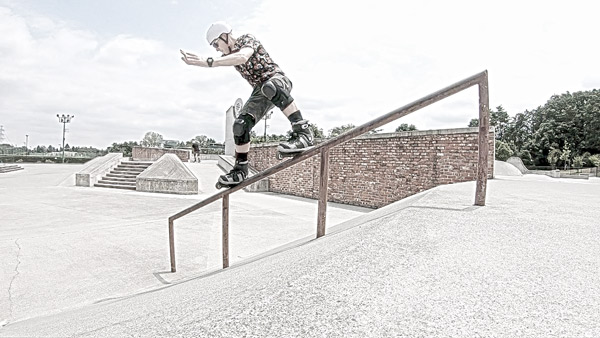 The question that you're probably asking now is, "isn't that a royale?" Well, yes it is a royale and it was actually invented here in Australia by a gentleman named John Pollard. If you would like to hear his full interview, check out the Mad Beef Podcast where he goes into the full story. The basic story is, they watched the video Dare To Air and witnessed grinding on handrails so his crew went to the streets with their skates that had a large wheel set up. They couldn't grind on the inside grooves so they had to slide in a shifty position. This is how it was named a shifty.
Other people are also claiming ownership of this trick like Brooke-Howard Smith and that's fine because we will never know who really was the first because we didn't have social media back then where we could instantly upload clips of new tricks that have been time stamped and contain meta data as proof. Being on the other side of the world in Australia, we had no idea of what was going on in the USA. We were simultaneously inventing the same tricks (Or even inventing them first, wink wink).

Shop - Products
Below is a selection of T-Shirts designs from the Shifty range. Click on the button to show your interest and we will do another print run.

Videos
Looking for the 1 Minute Skatepark Guide Videos?
Joe Stuart's YouTube Channel has over 200 Inline Skating Videos for you to binge on. Here is a small selection of hand picked skate videos.
The Tannery DIY Skatepark Preston - Melbourne DIY Skateparks
During the first Melbourne Lockdown, local Preston Skateboarders found a vacant block of land and started building a DIY skatepark. Known now as The Tannery. 2 years later this DIY Skatepark has grown into something astounding.
Inline Skating in Japan - On the search for Japan's Best Skatepark
Japan is known for its manufacturing of vehicles, amazing food, Mt Fuji, square watermelons, crowded cities, beautiful castles, advanced vending machines and of course Mario Cart.
Old men can't grind - Getting back into handrails at 40 years old - Aggressive inline skating
Getting a bit older now so I stopped doing handrails and also stopped doing flips. Because I have been skating lots lately, I decided it was time to try handrails on the street again. Watch this video to see how I go. Blading at 40 is different to inline skating at 20.

Contact
Want to get in contact with us? You can either drop us a DM on social media or you can click on the 'Contact Shifty' button below and fill out the form.
CONTACT SHIFTY